It is Photo Phinish Phridayhosted by the amazing
Carrie
) and I will Phinish my phond wedding memories . .. phor this anniversary anyway!
A co-worker had talked about Will for a year and a half before we finally met. He was either dating someone or freshly broken up (same person, just two break-ups). What is funny, is I had been visiting the same church he attended, for over a year.
I decided one Sunday to change the area I sat. As I headed to a different area, I spotted a seat. As I entered the aisle, I saw this blue eyed cutie that fit pretty close to the description of this fictional fella my friend had talked about for so long. I sat in the seat in front of him. We shook hands during the greet each other time. I decided near the end, that after the service, I would turn and introduce myself. And that is what I did.
Ha! He might of said he did not want to meet anyone, but he had! I went home and fell into my funk of how hard it was to meet a nice non-freak guy in this town!
A week later, as I sat down at church, my friend came and sat with me. The blue eyed cutie was there, a few rows away. After the service he approached and re-introduced himself. A few weeks later found us at a special Wednesday prayer service for the 9/11. We chatted a little after the service. Later he emailed a mutual acquaintance to ask me if he could have my number.
We went out the following weekend.
Two years after that, after a lot of sweet moments, a few fears of entering another marriage, we said "I do." While there are many stories that can be told, and probably will be through the course of this blog - the "I do" was the best!
We had a grand time with family and friends. Our wedding and reception was held at the old train depot, that has been converted into a museum and event center. But it held more meaning than that. My parents met on a train. My dad, a Marine, returning to base and my mom on her way to spend summer with her sister in Florida. This very depot is where my parents parted ways. But just a temporary parting . . .just until they married a year later.
(Ok, I left off the list last week one of the other hurdles with the ceremony - photographers. One became sick and the other's camera broke. So some of the pics are off and the color is not exactly right - BUT, I have pictures! And I think technology has given me the option to "fix" some of these that I love [actions maybe??]) Oh, and my dad was most likely saying something he thought funny - I get very few pictures of him that are not of him talking or making a face - hehe)

Will asked me the other day what I would like for our anniversary. What he doesn't know, is he already has given me my gift!
A husband to brag about.

A helpmate.

A best friend.
A happy marriage.
No further gift needed!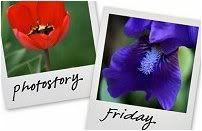 Hosted by Cecily and

MamaGeek